Here at Stacey's Organic tortillas, we believe in keeping it simple, healthy for your body and healthy for the planet.  All of our tortillas are USDA certified organic, verified GMO-free, certified plastic neutral, kosher and vegan.  We use only certified organic flours and oils and aluminum-free, GMO-free baking powder.  Our tortillas are free of  hydrogenated oils (trans-fats), cholesterol and sugar.
**For optimal quality, freshness, and delicious-ness, please store your tortillas in your refrigerator, and then heat them up to soften before serving.  Stacey's Organic tortillas can be easily warmed up in a pan (dry or with oil) or an oven.**
For more information on shelf life and our ingredients, please check out our FAQ page.
Stacey's Organic Tortillas are available in 4 varieties
8″ Whole Wheat Flour Tortillas
Ingredients: organic whole wheat and unbleached white flours, water, organic sunflower oil, baking powder, salt, citric acid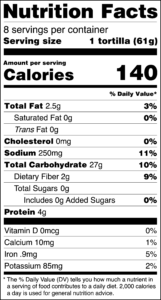 8″ Unbleached White Flour Tortillas
Ingredients: organic unbleached white flour, water, organic sunflower oil, baking powder, salt, citric acid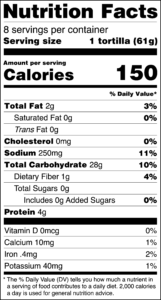 10″ BIG Whole Wheat Flour Tortillas
Ingredients: organic whole wheat and unbleached white flour, water, organic sunflower oil, baking powder, salt, citric acid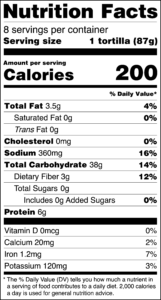 10″ BIG Unbleached White Flour Tortillas
Ingredients: organic unbleached white flour, water, organic sunflower oil, baking powder, salt, citric acid